Carey - March 7, 2009
CNN reports: Pop star Michael Jackson has sued to stop an auction house from selling millions of dollars of the iconic singer's property.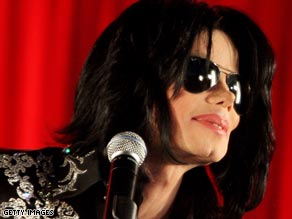 Jackson's company, MJJ Productions, filed a lawsuit Wednesday in Los Angeles Superior Court against Julien's Auction House.
"The conduct of the defendants was malicious, fraudulent, extreme, outrageous and without any legal justification whatsoever," the suit said.
---
TRENDING: Kings of Leon- Wonder What They Look Like?
---
CLICK PHOTOS TO SEE MORE
---
Julien's has scheduled a five-day auction for April to liquidate items from Jackson's former home, Neverland Ranch, including the gates, the singer's famous jeweled white glove and a stretch Rolls-Royce.
The singer's suit contends the auction house can't sell any of the items without his permission.
Word of the lawsuit is "news to us," said auctioneer Darren Julien.
Here are some of the items I think Michael Jackson is selling:
Have Something To Add To This Story?
Comment Your Thoughts Below!
Share This Post With Friends And Family!
FILE UNDER: celebrity gossip, celebrity news, entertainment, film, funny, humor, king ofpop, media, Michael Jackson, Michael Jackson auction, michael jackson's auction list, michael jackson's new tour in London, Music, neverland tour, news, nose, pee-wee herman, Plastic Surgery
---