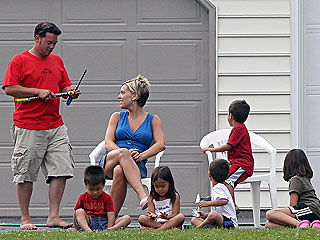 You read that right, Jon and Kate Gosselin have reunited!  However, it's not to reconcile their relationship.  No, Jon and Kate reunited over the holiday weekend for their kids.  So while it's not tabloid fodder or a happy ending, at least it's honorable.
The couple and their eight children lit sparklers, played volleyball and had cake before fireworks and more family time.  Of course, paparazzi were waiting beyond the property lines, snapping pictures and hoping for a giant fight.  Looks like the ex's did okay though.  They had this date planned out months ago and were ready to see each other and be formal despite their divorce proceedings.
See, people can be civil for their kids.