What a big bowl of cherries this is… remember when Wonder Years was on television ALL THE TIME? Yah..I think I watched every episode.
"What would you do if I sang out of tune…would you stand up and walk out on me?"…."Lend me your ear and I'll sing you a song…I will try not to sing out of keyyyyy  yah… Hallelujah.
Hallelujah that Winnie has a more normal head on her shoulders than the crack head Jodie Sweetin from Full House!! Congrats on the wedding!
Reported by People Magazine: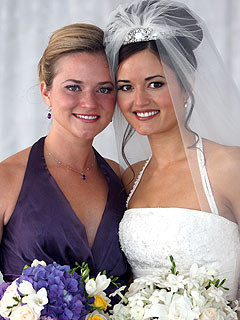 Danica McKellar's sister starred on The Wonder Years with her sibling, but Crystal McKellar's latest role as her sis's maid of honor made her feel like a true star."I am so thrilled that my sister Danica has met and married the love of her life, composer Mike Verta," Crystal, 32, tells PEOPLE. "I spoke to Danica today they are on their honeymoon and having the time of their lives."Danica, 34, and Verta, 36, got married in a sunset ceremony over the weekend in La Jolla, Calif."Everything about the day was magical," adds Crystal, who played Becky Slater on The Wonder Years while Danica played Winnie Cooper. "From celebrating with our family the extended McKellar and Verta families, as well as our Wonder Years family, Dan Lauria and Alley Mills to watching Danica and Mike dance their first dance as husband and wife."Verta wrote "Forever in Love With You," a Sinatra-style waltz, specifically for the wedding. Danica and Crystal's uncle, Kim McKellar, sang the song for the occasion.And the celebration kept on going even after the reception, Crystal tells PEOPLE. "We retired to a favorite family restaurant on the beach in La Jolla called The Marine Room, where Mike lovingly played the song on the piano for Danica while she sat next to him, beaming," she says. "I couldn't be happier for them!"
Photo by: Del Rio Studios